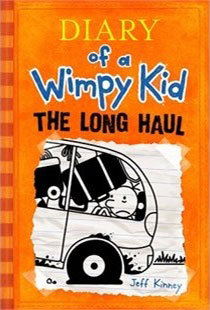 In The Long Haul, the latest and greatest Diary of a Wimpy Kid book by Jeff Kinney, Greg Heffley is about to take part in that most dreaded of family activities–the road trip. Greg's Mom thinks this will be the greatest summer activity in the world, and she's billing it as a vacation and learning experience all rolled into one. Well, it's definitely a learning experience, but I doubt dear old Mom had these lessons in mind…
From rundown hotels to lost wallets and cell phones to destructive pigs to unfortunate car mishaps, the Heffley family goes through loads of mayhem and madness on this most epic of road trips. Everything that could possibly go wrong is going wrong on this horrible vacation.
Crammed in the back of the family van, Greg tells readers all about his vacation misadventures, and readers young and old will find it all too easy to sympathize with Greg's plight. (Who hasn't endured a heinous family road trip?!)
Will Greg and his family make it out of this with their sanity intact? Can anything go right for them during this trip? What more could they possibly endure?
Join Greg Heffley on yet another wild ride when you read Diary of a Wimpy Kid: The Long Haul!