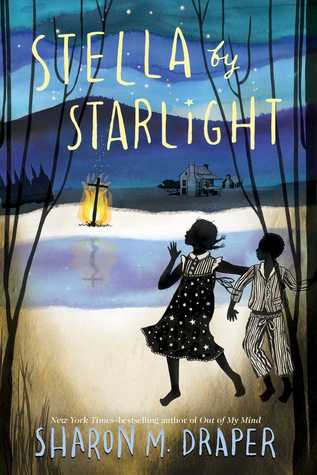 Stella by Starlight by Sharon Draper is a nominee for the 2016-17 South Carolina Children's Book Award.
Stella by Starlight takes place in the segregated South during the Great Depression, and it doesn't shy away from the racism, hatred, and fear that was so prevalent at the time. (Anyone who is paying attention would agree that these things are still prevalent.) But this book also emphasizes the power of family, community, faith, and courage in the face of adversity.
The book begins with Stella and her brother, JoJo, witnessing something disturbing in the woods next to their home late one night. They see men and horses in white robes. They see a burning cross. This sight can only mean one thing–the Ku Klux Klan. Stella and JoJo race home to tell their parents what they've seen, and the people in the community immediately come together to discuss what it might mean.
With the threat of the Klan looming over everything, the people in Stella's community wonder what they can do to combat such a seemingly powerful force. They've always dealt with racism, but this feels much more sinister. When several men, including Stella's father, decide to stand up for themselves in the voting booth, the threat becomes even greater.
Through all of this turmoil, Stella examines her own feelings through writing. Stella admits she's not the best writer, but she practices late at night in the hopes of getting better. She has so many thoughts about what's going on around her, and she wants to get them down on paper. She writes about her family, school, and community. She writes about the prejudice she experiences and sees around her. She writes about the people, both black and white, who come together and take a stand when times are hard. She writes about her hopes for the future.
---
Stella by Starlight is an excellent piece of historical fiction, and I hope that many teachers and students will use it to supplement their understanding of racism, both in the segregated South and in the present day.
I also see this book being used to help students with their writing…or whatever else they may be having trouble with. Stella freely admits that she is not a great writer and needs practice. Students need to see that it's okay to make mistakes. What's important is to keep trying and working to get better.
Librarians, teachers, and parents who want to explore themes like bravery, integrity, empathy, tolerance, and respect with their students should definitely take a look at Stella by Starlight. It's an extremely powerful book that will stay with all readers long after they've finished it.