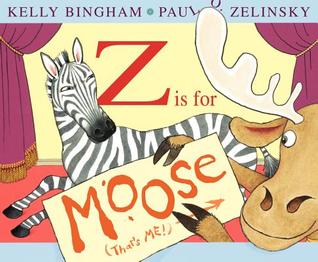 Z is for Moose, written by Kelly Bingham and illustrated by Paul O. Zelinsky, is a nominee for the 14-15 South Carolina Picture Book Award.
Z is for Moose is a funny book that is ideal for any young reader who is learning the alphabet or likes picture books with lots of silliness.
Zebra is trying to put on a production of the alphabet. Moose, though, is impatient for his turn. He interupts other letters wondering if it's his turn yet, and when he finally gets ready for his big moment with the letter M, he discovers that Zebra has given his spot to a mouse.
Moose is not happy about being replaced, so he goes on a bit of a rampage. He takes over the alphabet and throws everything into a tizzy. Eventually, Zebra gets things back in order. He realizes, however, that he's hurt Moose's feelings, and there's only one way to make things right.
While I'm not sure this book is ideal for read-aloud, I do think it will be a hit with kids, primarily preschool-kindergarten students, who are exploring the alphabet. They'll enjoy seeing where Moose messes things up, but they'll still be able to see the alphabet in order. I predict that this book could lead some young readers to create their own crazy ABC books.