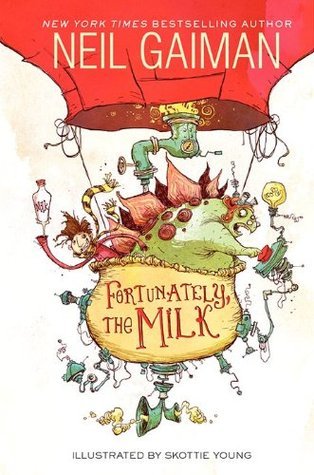 Who knew that being out of milk would lead to such craziness? Well, that's exactly what happened one morning in a perfectly normal household. The father went out to get the milk, but he had quite the story for his disbelieving children when he returned.
After getting the milk that his kids needed for cereal–and he wanted for his tea–it seems that Dear Old Dad got a bit sidetracked by a few things. Things like spaceships, green globby aliens, pirates, piranhas, a professorial stegosaurus with a time-traveling Floaty-Ball-Person-Carrier (hot air balloon), an ancient volcano god, ponies, wumpires, the space-time continuum, the galactic police, and dancing dwarves.
Is the father's story true? Could he have possibly gone on a time-traveling adventure with the strange Professor Steg? And how did he ever get the much-needed milk home to his children? Read Fortunately, the Milk to find out!