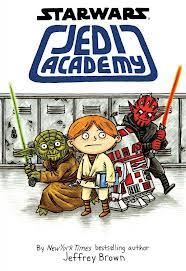 A few months ago, one of my 5th grade students brought a book to my attention:  Jedi Academy. (How awesome is it that my students know how much I love Star Wars and look for ways to enjoy it with me!) I was totally charmed by this comic book/diary, and I think the same will be true of many Star Wars fans, no matter their ages.  Jedi Academy is kind of like Diary of a Wimpy Kid set a long time ago in a galaxy far, far away, and I think it sends the message that middle school is hard on everyone…even aspiring Jedi!
Roan has always dreamed of going to pilot school, but what's a poor kid on Tatooine to do when he's not accepted? Roan is sure he's going to end up at farm school, but he receives a letter that will change everything. Roan has been accepted into the Jedi Academy!  He'll study at the Jedi Temple on Coruscant and learn all about the Force, lightsabers, and all that other cool Jedi stuff.
Roan is very nervous about this new adventure. What if he's not Jedi material? Most of the other kids have been training since they were toddlers. How can Roan hope to catch up? Well, he'll have some help from his teachers, including Jedi Master Yoda (who is a young 700-year-old in this book), and some new friends.
Will Roan have problems at the Jedi Academy? Sure! All middle schoolers do! Bullies, girls, learning new things, feeling unsure, exploding science fair projects, and finding a place to fit in. Roan goes through all of that, but he might just discover that he's stronger than anyone (including Roan) ever realized. Is the Force strong in Roan? Read Jedi Academy to find out!