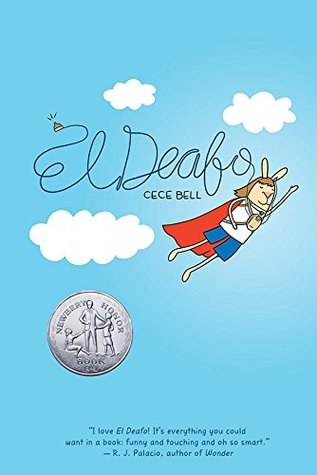 El Deafo by Cece Bell is a nominee for the 2016-17 South Carolina Children's Book Award.
El Deafo is both a graphic novel and a memoir. It truly is Cece Bell's story. This story–which depicts young Cece as a rabbit–tells of how she lost her hearing and adapted to the world around her. It shows her difficulties fitting in as well as her triumphs. It's hilarious at times and heart-breaking at others, and anyone who sees himself/herself as different will relate to Cece in some way.
But you don't really need me to tell you about this book. Let's hear from the author herself…
I think El Deafo is a great book for introducing a variety of concepts. Some of those may include:
telling stories in a variety of formats
exploring the relationships between art and writing
memoirs
accepting/celebrating differences; tolerance
empathy
self-confidence
handling conflict
To learn more about this amazing book and author Cece Bell, visit her website.