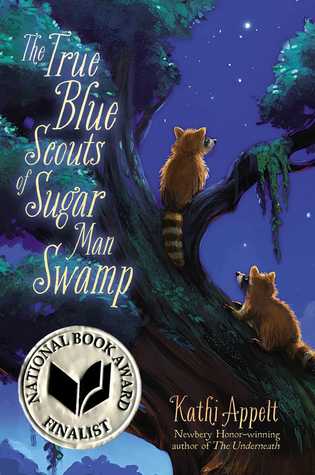 The True Blue Scouts of Sugar Man Swamp by Kathi Appelt was a nominee for the 2015-16 South Carolina Children's Book Award and a National Book Award finalist.
Bingo and J'miah, raccoon brothers, are the newest Official Sugar Man Swamp Scouts. They gather information vital to the survival of the swamp, and, should they ever need to, they wake the Sugar Man if the swamp is in danger. Pretty soon, they'll have to do just that. A band of nasty, vile, feral hogs are on their way to the Sugar Man Swamp, and they're sure to destroy anything in their path. Our loyal, beloved Scouts simply can't let that happen. They must find a way to wake the Sugar Man, who has been sleeping for over sixty years.
While Bingo and J'miah are working for–and trying to wake–the Sugar Man, a twelve-year-old boy named Chap is doing his own part to protect the swamp where he lives. An awful man, Sonny Boy Beaucoup, wants to pave over the swamp and create an alligator wrestling theme park. In the process, he'd force Chap and his mom out of their pie-making business and the only home they've ever known, not to mention all of the plants and animals that would be destroyed. Chap just can't let that happen, and he's willing to do whatever it takes to keep his home…even if that means coming face-to-face with the Sugar Man himself.
As hogs are coming from one direction and theme park developers come from another, Chap and the Scouts of Sugar Man Swamp are both working to save their homes. They'll have to be both creative and relentless in their quests to protect the swamp.
Will the raccoons wake the Sugar Man in time to beat back the horrible hogs? Will Chap find some way to convince Sonny Boy to abandon his theme park schemes?
Trouble is surely coming for this precious swamp, and only one thing can really set things right. It's time for the Sugar Man to wake up!