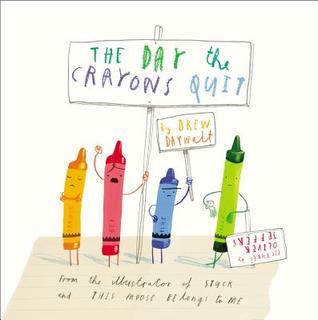 The Day the Crayons Quit, written by Drew Daywalt and illustrated by Oliver Jeffers, is the winner of the 2015-16 South Carolina Picture Book Award.
One day, when Duncan takes out his crayons to do some coloring, he finds a bunch of envelopes in his crayon box. It seems his crayons have quit! Why, you ask?
Well…Blue, Red, and Gray are overworked and tired. Purple wants Duncan to stop coloring outside of the lines. Beige pleads his case that he is not "light brown" or "dark tan," and he should get some of the work that is going to Brown. White and Pink are underused, and Black is only used to outline things. Green is pretty happy with his work, but he wants Duncan to decide if the sun is Yellow or Orange. (Those two are arguing about it and won't speak to each other anymore.) And Peach–poor, naked Peach–is upset that Duncan peeled his paper off.
So, what is Duncan to do? He wants to color, and he wants his crayons to be happy. Find out how the crayons get back to work when you read The Day the Crayons Quit, a charming book that is sure to make you laugh and may just spark some creativity!
The Day the Crayons Quit is a great book to share with anyone who loves to color…and who doesn't?! It would be an excellent gift for budding artists as well as art teachers. There's so much potential here for making students think and for encouraging creativity.