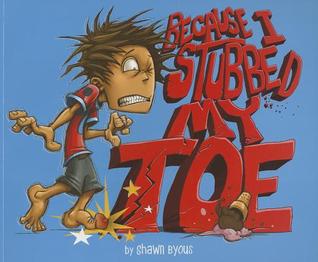 Because I Stubbed My Toe by Shawn Byous is a nominee for the 15-16 South Carolina Picture Book Award.
Because I Stubbed My Toe is sure to be a hit with young readers who enjoy Laura Numeroff's If You Give a Mouse a Cookie books.
This charming book shows the chaos that erupts because of one stubbed toe. One little stubbed toe leads to frightened animals, dropped ice cream cones, bee swarms, a bouncy house disaster, stampeding elephants, and it all leads right back to the boy who started it all.
Because I Stubbed My Toe is an excellent book for teaching the concept of cause and effect. It's a funny, fast read that could inspire children to write similar stories.