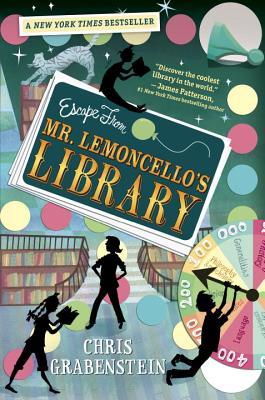 Kyle Keeley loves games of all kinds, and his favorites are the creations of the amazing Luigi Lemoncello, an eccentric genius who just happened to grow up in Kyle's hometown.
Kyle's town has been without a public library for years, but everyone is excited that a new library is about to open–and that excitement only grows when it's revealed that Mr. Lemoncello himself designed the new building. Kyle is sure that the library is awesome–even though he doesn't like to read all that much–and he is determined to be one of the first people to see just how cool it is.
An essay contest will determine which twelve seventh-graders are invited to a lock-in at the new library. Even though Kyle's essay efforts are a bit rough, he is selected to spend the night in the greatest library the world has ever known! Filled with holograms, a Wonder Dome with changing scenes overhead, hover ladders that reach the highest shelves, state-of-the-art technology, and books galore, the library is more than any of the kids ever dreamed…and so is the contest that led them here.
When the lock-in is over, these twelve kids are presented with the opportunity of a lifetime. They may extend their stay and play the most exciting game of their lives, Escape from Mr. Lemoncello's Library! Whoever finds the escape route from the library within the next twenty-four hours becomes Mr. Lemoncello's spokesperson for all of his gaming products! Kyle doesn't even need to think about whether or not he'll stay. (Not everyone feels the same.) This is more than he ever dreamed of, and he's in it to win it. (He's not the only one.)
During this exciting day, Kyle teams up with some friends–old and new–and uses knowledge of books, the library, games, and Mr. Lemoncello himself to find a way out of this most unusual library. Will they be able to escape from Mr. Lemoncello's Library before time runs out? Before someone else beats them to it? And what will they learn along the way?
Play the game along with Kyle and company and see if you can figure out how to Escape from Mr. Lemoncello's Library!
Escape from Mr. Lemoncello's Library by Chris Grabenstein is a nominee for the 14-15 South Carolina Children's Book Award.