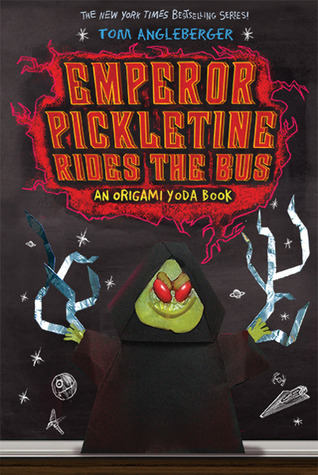 Emperor Pickletine Rides the Bus picks up where Princess Labelmaker to the Rescue ended, and the kids from McQuarrie Middle School are in for yet another adventure…one without Origami Yoda!
Now that the FunTime Menace is no more, the students of McQuarrie Middle now get to enjoy things like elective classes and, of course, their highly anticipated field trip to Washington, DC. But what will they do when Rabbski, their principal-turned-math-teacher declares that origami–especially Origami Yoda–is off-limits? How will these seventh graders survive without the sage advice of Origami Yoda?!
Have no fear! Dwight is here…with a bunch of Fruit Roll-Ups he folds into Fruitigami Yodas. Unfortunately, the vile Harvey also comes prepared with EMPEROR PICKLETINE, the most evil, sour, and smelly being in the galaxy! Harvey and Emperor Pickletine seem bent on ruining this field trip, and the Dark Side may be more powerful than anyone realized. Is Fruitigami Yoda strong enough to fight this new threat?
As the seventh graders of McQuarrie Middle explore Washington, DC (and get into a fair amount of trouble), a battle is brewing between the Dark and Light Sides of the Force.
Who will win? Will Yoda come through for the Origami Rebellion one more time? Well, I can't say. But I can tell you that this final battle is full of mischief-making, fisticuffs, space food, and even a little bit of smooching! I'll leave it to you to find out who does what!
To learn more about all things Origami Yoda, click here. May the Force be with you!