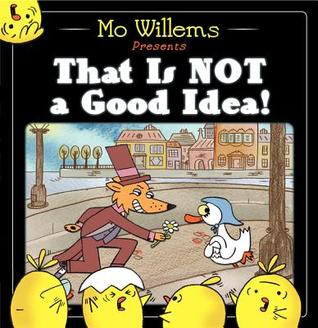 That Is NOT a Good Idea! by Mo Willems is a nominee for the 2014-15 South Carolina Picture Book Award.
Fans of Mo Willems will find yet another book to love in That Is NOT a Good Idea! This charming picture book, which gives a nod to silent films, introduces readers to a hungry fox and a plump goose. It appears that the fox is luring the goose back to his lair so that he can "have her for dinner." All the while, baby chicks interject with "That is not a good idea!"
While we assume that the chicks are warning the plump goose away from the fox, in true Mo Willems fashion, that is soon turned on its ear! Readers young and old will love how the story makes a sharp turn, and they'll enjoy rereading the story with the surprise ending in mind.