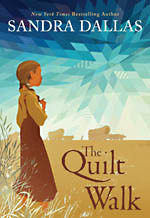 The year is 1864, and Emmy Blue Hatchett has just learned that her family is leaving their safe home in Illinois to strike out for a new life in Golden, Colorado. While Emmy Blue is excited about the possibility of adventure, she doesn't want to leave everything she's ever known behind…and she knows her mother feels the same way. But they accept their new circumstances, and Emmy Blue, her parents, and her aunt and uncle set off for Colorado.
The family has to leave many things behind–and think of creative ways to take along what they need–but just before they leave, Emmy Blue is given some fabric pieces by her grandmother. Emmy Blue is not exactly happy with this gift. Unlike the other women in her family, Emmy Blue has no interest in quilting. She doesn't understand the appeal of making perfect stitches and putting scraps of fabric together, but her mother convinces her to take her grandmother's gift and put it together on their long trek to Colorado.
As Emmy Blue begins piecing her quilt together, often walking while she stitches, she takes in her surroundings and gets to know the people around her. She has long conversations with her father and mother, she makes a new friend when they join up with a wagon train, and she questions some of the cruelty she sees around her. She encounters dangers she never expected, she learns to set up camp and lead a team of oxen, and she even finds herself enjoying her quilt walk just a bit. On this long, perilous journey, Emmy Blue Hatchett is growing up and discovering just how strong both she and those around her really are.
Eventually, Emmy Blue and her family arrive at their destination…though not without some changes. Emmy Blue is a different person than the girl who left Illinois. Her quilt walk may be done, but her journey through life is just beginning.
The Quilt Walk by Sandra Dallas is a nominee for the 2014-15 South Carolina Children's Book Award.