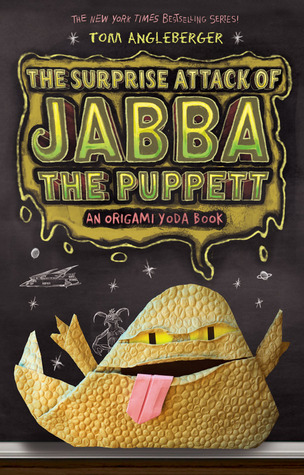 In this fourth book in the Origami Yoda series, the students of McQuarrie Middle School are facing a terrible evil.  More evil than the Empire. More evil than a Sith Lord without his morning coffee.  More evil than Jar Jar Binks. (Well, maybe not that bad.)  This semester, the school is eliminating all electives–Lego robotics, drama, music, yearbook–and forcing kids to spend those class times watching the horrible FunTime videos that are supposed to help increase standardized test scores.
As one can probably imagine, the students are not happy about this, and, with the help of Captain Dwight and Origami Yoda, they decide to do something about it. The students of McQuarrie Middle form their own Rebel Alliance and try to figure out a way to put an end to FunTime (and it's stupid singing calculator). Their plan is risky, but it may just work if they can get enough kids on board. Armed with a battalion of origami Star Wars figures, the students of McQuarrie Middle seek to restore order and balance to the Force at their school.
Will the Rebel Alliance succeed in defeating the dreaded FunTime Menace, or is this war bigger than they realize? And what will this rebel band do when help comes from a surprising source? Learn just how much a determined group of kids can accomplish when you read The Surprise Attack of Jabba the Puppett by Tom Angleberger! May the Force be with you!