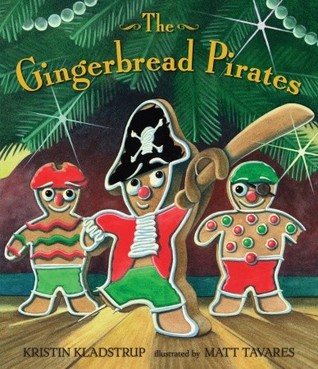 The Gingerbread Pirates, written by Kristin Kladstrup and illustrated by Matt Tavares, is a perfect Christmas book for boys–or anyone who loves pirates!
When Jim gets the idea to make a crew of gingerbread pirates, he never expects them to come to life. When Jim is sleeping and waiting on Santa to arrive, the pirates, led by Captain Cookie, try to band together so that this mysterious Santa Claus doesn't eat them. When they meet the jolly old man, however, the pirates are in for a bit of a surprise. It seems that Santa has a gift for even them!
After reading this book, I foresee lots of children trying to make their own gingerbread pirates in the hopes that the cookies will come to life and have an adventure of their own. That should make for a fun Christmas Eve!