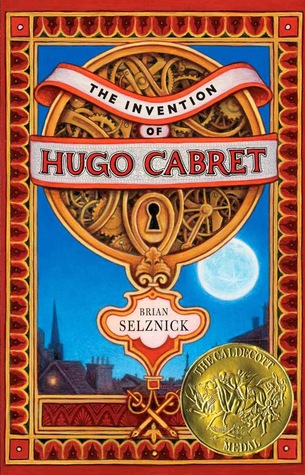 In The Invention of Hugo Cabret, we are introduced to Hugo, an orphan, timekeeper, thief, and wonderer.  Hugo spends his days and nights in a busy Paris train station, keeping the clocks in working order for his uncle, who has seemingly vanished.  No one notices Hugo, and he does his best to keep it that way so that he doesn't end up in an orphanage or someplace even worse.  He simply keeps the clocks running, pilfers food where he can, and works on the mechanical man, or automaton, that provides a connection to his father.
In Hugo's quest to get the automaton working, he steals parts from toys.  As is usually the case, Hugo gets caught in the act by the toymaker.  But the old toymaker doesn't react to Hugo's thievery the way one would expect.  In fact, he grows sad when he sees Hugo's precious notebook, and, after a bit of drama, he even lets Hugo help in the toy shop.  Could the old toymaker be keeping secrets of his own?  Hugo and Isabella, the toymaker's goddaughter, soon join forces on a quest to find out about the toymaker's past and his mysterious connection to Hugo's mechanical man.
Can Hugo and Isabella uncover the mystery of the mechanical man?  What will they discover about Isabella's godfather?  Join them as they travel through walls, a train station, movie theaters, libraries, and the streets of Paris to unlock the truth.
I haven't come close to describing how wonderful this book is.  The narrative is as enchanting as the illustrations.  It's no wonder that The Invention of Hugo Cabret won the Caldecott Medal.  I just hope the movie is just as awesome as the book.