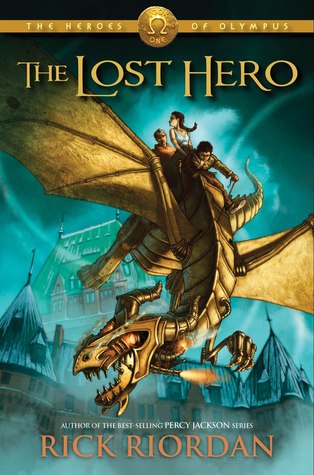 Notice:  It might not be a bad idea to read the entire Percy Jackson & the Olympians series before starting this book.  Trust me!
In The Lost Hero, we are introduced to three new demigods:  Jason, Piper, and Leo.  At the beginning, they have no idea who they really are or what they can do.  After a treacherous field trip to the Grand Canyon, however, things begin to change–especially when their gym coach turns out to be a somewhat unpredictable satyr.  The three teens are spirited away to Camp Half-Blood where, one by one, they are claimed by their godly parents.  Even this is not without its conflict.  (I won't tell you who their parents are.  That would really ruin things for you.  You'll just have to read to find out.)
Shortly after Jason, Piper, and Leo arrive at Camp Half-Blood, they are sent on a quest–and we all know how wonderful those usually turn out, don't we?  They must stop something truly evil from coming to life and destroying Olympus and the world as they (and we) know it.  This could prove to be a bit difficult, especially since Jason has a touch of amnesia, Piper and Leo are hiding some pretty important details, and all of the gods of Olympus have gone silent.  To sum up, things are bad, and they're about to get much, much worse.
Can our heroes succeed in their quest?  Why were these three demigods chosen for this all-important task?  Why does Jason constantly refer to the gods and goddesses by their Roman names?  How are these events connected to Percy Jackson and his actions in the Titan War?  What will they have to do–or give up–to defeat the evil that is rising?  Read The Lost Hero by Rick Riordan for the answers to these questions and more.  (I will warn you that some of these questions may be answered, but about a million more will pop up to replace them.  Awesome.)
Just like the Percy Jackson and the Olympians series, The Lost Hero (and the rest of the Heroes of Olympus series, I hope) is great for upper elementary, middle, and high school readers.  Adults will enjoy it, too!
For more information on Rick Riordan and his wonderful books, visit http://www.rickriordan.com/home.aspx.