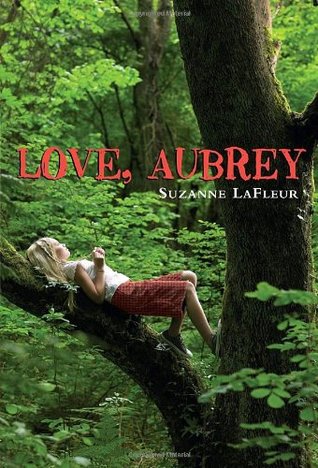 After a horrible car accident rips her family apart, Aubrey is left all alone.  She takes care of herself and her new pet fish, Sammy, and they seem to be okay alone.  At least for a little while.  When Aubrey's grandmother realizes that eleven-year-old Aubrey is basically living alone, she steps in, and Aubrey finds herself moving from her home in Virginia to Gram's house in Vermont.
Aubrey is not sure how she feels about this move and leaving her old life behind.  She doesn't want a new room, a new school, or even new memories that don't include her family.  How can Aubrey move on without her dad, her little sister Savannah, or her mom?
With the help of Gram, her new best friend Bridget, and writing a few letters about her feelings, Aubrey may have found a way to continue living her life while coming to terms with what happened to her family.  Even though she's lost a lot, Aubrey realizes she doesn't have to face the hard stuff alone.  She still has love, friendship, and memories of her family to see her through.  But will that be enough when she has to face the hardest decision of her life?  Read Love, Aubrey by Suzanne LaFleur to discover just how strong one girl can be.
I truly loved this book.  I cried at least once per chapter.  Aubrey's journey was absolutely heartbreaking, and I think my heart broke a little bit right along with her.  Love, Aubrey is both devastating and heartwarming, and I think it will appeal to readers of all ages, especially those who've enjoyed such wonderful stories as Charlotte's Web and Bridge to Terabithia.
If you decide to read Love, Aubrey, here's a little warning:  Make sure you have a box of Kleenex handy.  You'll need it.