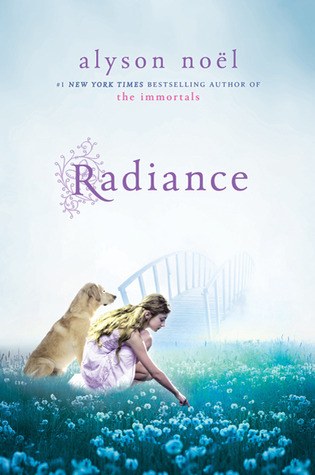 In Radiance, we are introduced to Riley Bloom, a twelve-year-old girl who died in a car accident and is not happy about it.  (Who would be?)  She crossed the bridge into the afterlife with her parents and her dog, but she's still focused on the life—and the older sister—she left behind.  That's all about to change, though.  It's time for Riley to find her purpose Here (the author's version of Heaven).  And just what is her purpose?  Well, she's going to be a Soul Catcher, or someone who convinces souls tied to earth to make the journey across the bridge to Here.
Riley has no idea what she's supposed to do, but The Council, in addition to giving her a job, has also provided her with a guide.  Bodhi is forever fourteen-years-old, kind of a dork (but with definite cute potential), and surely keeping secrets from Riley.  All of that has to be put aside, however, as Bodhi takes Riley on her first assignment.  They journey to England where a being known as Radiant Boy has haunted a castle for centuries.  It is up to Riley to convince him to cross the bridge and find a new life Here.  She's convinced it will be a breeze, but can she succeed when so many Soul Catchers before her have failed?  What will happen if she fails?  What will happen if she succeeds?  What next?  And why is Bodhi so nervous about this particular assignment?  What else is going on?
Join Riley and Bodhi as they face their fears and learn that letting go can make them truly free when you read Radiance by Alyson Noël.
I think Radiance is great for upper elementary and middle grade readers.  It's a quick, easy read, and the characters are memorable and engaging.  There is some scary imagery (an evil clown with dental instruments, for example), but the lesson about overcoming fear is more powerful than those images.  I highly recommend this book, and I look forward to reading the second and third books in this series, Shimmer and Dreamland, soon.  The fourth book, Whisper, is due out sometime in 2012.
If you think you'd like Radiance or would like more information on this series and others by Alyson Noël, visit http://www.alysonnoel.com/index.php.