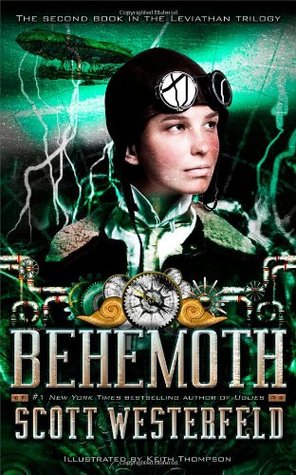 Warning!!  Read Leviathan before continuing with this post.  Behemoth is the second book in this amazing series.
Behemoth picks up where Leviathan ended, and I think this second installment is more action-packed and anxiety-inducing that the first book.
Alek and Dylan have grown closer during their time on the Leviathan, but the two friends are still harboring some big secrets.  Alek has told no one that he is the true heir to the throne of Austria-Hungary, and Dylan–or should I say Deryn–is hiding the fact that she is a girl.  Those secrets, although important, might just be taking a back seat to the war around them.  The Leviathan is headed for the seemingly neutral city of Constantinople (Istanbul), but it soon becomes clear that they are not the only visitors to this all-important city.
After a rough encounter with some German warships, the Leviathan and crew enter Constantinople only to discover that the Germans, or Clankers, have arrived ahead of them.   The Clankers have essentially taken over the city, making it into a hub of Clanker engineering and weaponry.  Neither Alek nor Deryn were prepared for what they were sailing into, but circumstances caused them to face the coming conflict head-on…
Alek, after learning that he will soon be considered a prisoner-of-war aboard the Leviathan, escapes the air beast into the streets of Constantinople.  There he faces his own enemies and makes the acquaintances of certain people who would fight the German encroachment in their fair city.
Deryn, still hiding her true identity, is given an important mission that will make possible the arrival of the British Empire's most fearsome weapon, the behemoth.  When complications arise, Deryn is forced to seek help from Alek and his new comrades.  But can she, or Alek, trust these revolutionaries?  And what will they do when it becomes clear that the Clankers have a powerful weapon that can stop the Leviathan, and any other beast accompanying it, in its tracks?  Are they strong enough to fight the Clanker powers?  Only time will tell.  But can Alek and Deryn possibly keep their secrets when a war keeps bringing them closer together, or will these secrets only serve to drive them apart?  Read Behemoth to find out how Alek and Deryn fare in a war neither of them truly understand.
I really enjoyed this book (maybe even more than I liked Leviathan), and I think any fans of action, danger, and suspense will find something to love in Behemoth.  I appreciate the illustrations by Keith Thompson.  Like those in Leviathan, these pictures help me to visualize the various beasts and contraptions in this alternate world.  There is also an extremely helpful afterword at the end of the book which explains how the events in Behemoth were similar to or different than the actuality of World War One.
If you'd like more information about this series or any other by Scott Westerfeld, visit http://scottwesterfeld.com/.