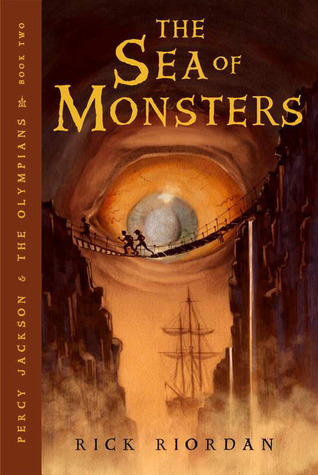 Warning! Read The Lightning Thief before reading this review! I don't want to spoil anything for you!
In The Sea of Monsters, Percy Jackson is about to end a pretty uneventful year at this year's boarding school…or so he thinks. One horrible game of dodgeball later, and Percy is fleeing from monsters once again. He also learns the sad news that a mysterious poison has nearly destroyed his beloved Camp Half-Blood, his sole safe haven as the son of Poseidon.
Percy, Annabeth (daughter of Athena), and Tyson (a newcomer to Percy's life who isn't exactly what he seems) go on a quest to find the one thing that can save Camp Half-Blood: the Golden Fleece. Along the way, they run into your average, run-of-the-mill, terrifying monsters and dead Confederates, reunite with an old foe, and find help in the unlikeliest of places. They've also got to save Grover, Percy's satyr friend, from marriage to a Cyclops.
The Sea of Monsters is a thrilling, often funny, tale of bravery, loyalty, and an ongoing quest to save the world from unspeakable evil. What will become of Percy and his friends? I'll leave it for you to find out. Happy reading!